Join CommLaw's Managing Partner at the CVx EXPO23 in Scottsdale, AZ!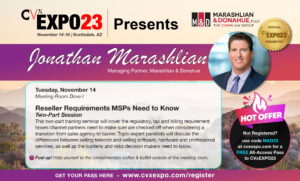 Join Jonathan Marashlian at the CVx EXPO 23 in Scottsdale, AZ!
Meet with the leaders of the telecommunications industry including Thomas Forte, Robert Dumas, Jeff Lytle, and Brent Reeves.
Learn more about the complexities of today's intricate regulatory and tax challenges confronting VoIP and communication service providers. These leaders provide the truth, not for quick wins, but to lead even the smallest providers on the path to compliance and effective risk management.
Use code M&D23 for a FREE all-access pass to CVx EXPO23! 
Come hear the truth and don't miss this chance to gain valuable insights from industry experts to help your company navigate the complex world of telecom compliance with confidence! Register Today!
📅 CVx Expo
 Scottsdale, AZ — Talking Stick Resort
 Nov 14 – 16